American Airlines food vs. United food
When taking long flights, the meals you receive on board are important. American Airlines and United want to provide the absolute best for their passengers, but in my experience, they always seem to fall short. Let's compare the two:
American Airlines food

American Airlines offers a wide variety of food onboard, such as standard snacks and full meals on long-haul flights, and of course, the infamous peanuts. Here's how American Airlines breaks down its food choices:
Domestic economy class

If you are traveling on a short flight up to 250 miles in economy, they serve a light snack consisting of your choice between Biscoff cookies or pretzels. They also offer non-alcoholic drinks for a fee.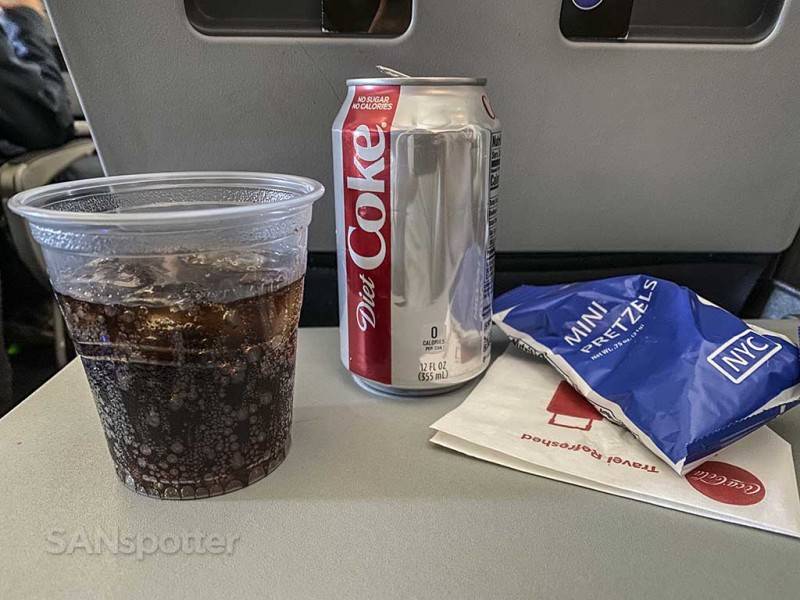 This is about as good as it gets in American Airlines economy class.
If you are traveling to Hawaii in economy class, you can expect a full food for purchase menu typically offering fish, meat, or a vegetarian option. Alcoholic beverages are also offered, such as beer or wine.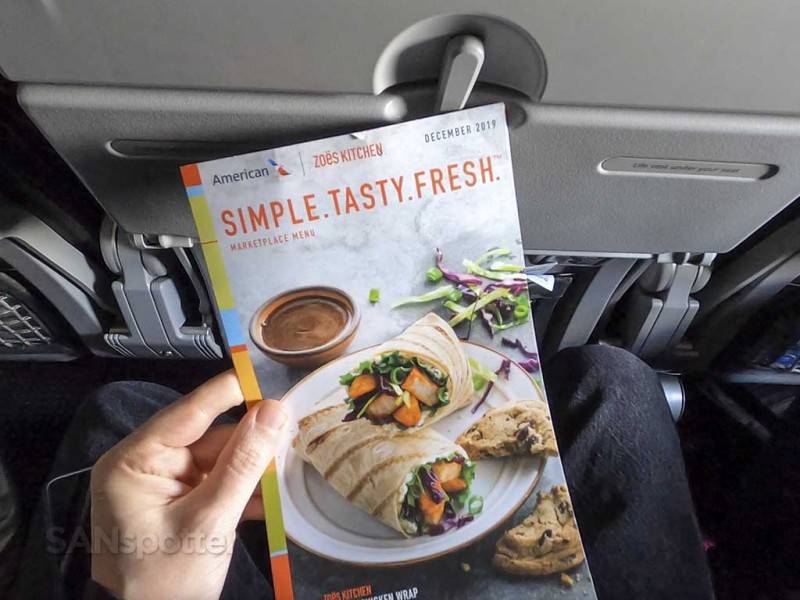 The food for purchase menu on American Airlines. Not only is it simple, tasty, and fresh, it's also horrifically expensive.
International economy class

The food you'll get in international economy class isn't anything I'd call revolutionary (or remarkably tasty). Depending on the length of the flight, you can expect a snack service shortly after takeoff, followed by a full meal. You'll get a pre-landing meal as well, which is usually a breakfast of some sort. I hope you like omelettes…
Domestic first class

On shorter flights, don't expect anything more than a complimentary sandwich or fruit and cheese plate in first class. Full meals (and drinks) are complimentary on longer flights.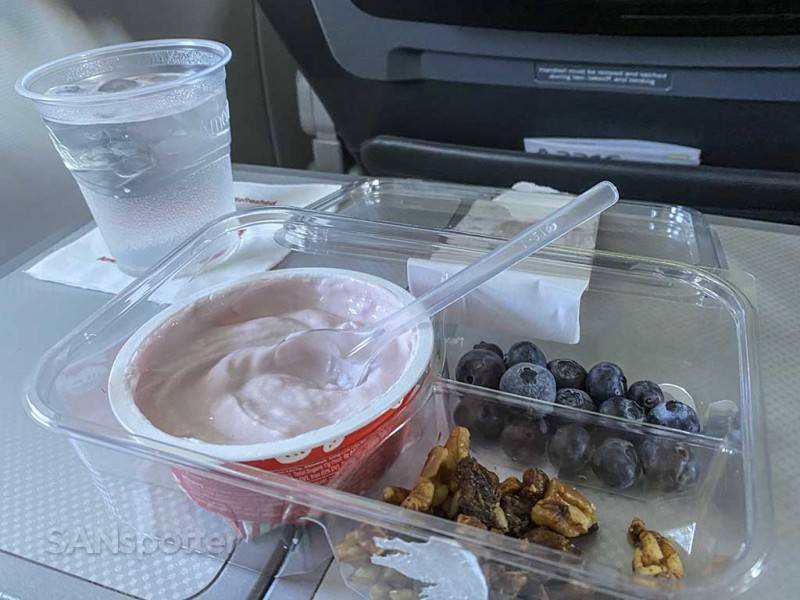 This is what American Airlines has been serving for breakfast in domestic first class lately (on medium-haul routes). It was either this or a highly-processed sandwich of some kind – one that I was not willing to sacrifice my body for.
Transcontinental flights also receive full meal service (free in first class, but you'll have to pay extra if you're seated in economy). Aboard these flights, you can expect one full meal during your cross-country flight and your choice of alcohol, often beer or wine.
International business class

American Airlines lets you order food up to 30 days in advance of your flight, which is extremely helpful for those who have particular dietary requirements. Other than that, it goes without saying that the food you'll get up in business (or first) class will be far better than the slop they serve in economy.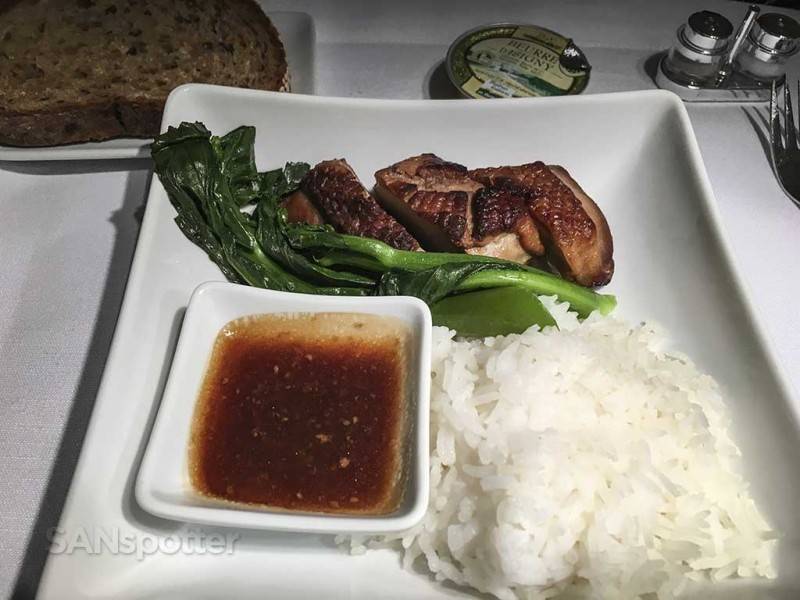 American Airlines long haul business class food (from my HKG-LAX flight). I think it was duck. I know for a fact it was good.
United Airlines food

United Airlines offers a similar selection of meal options, such as complimentary non-alcoholic beverages on all flights, even those less than one hour of flight time. The beverages offered on all flights include coffee and tea. On all United long-haul flights, alcoholic beverages are offered complimentary in economy.
Domestic economy class

On United flights under 2 hours 20 minutes, they do not serve snacks onboard; however, economy class passengers can bring their own if they choose.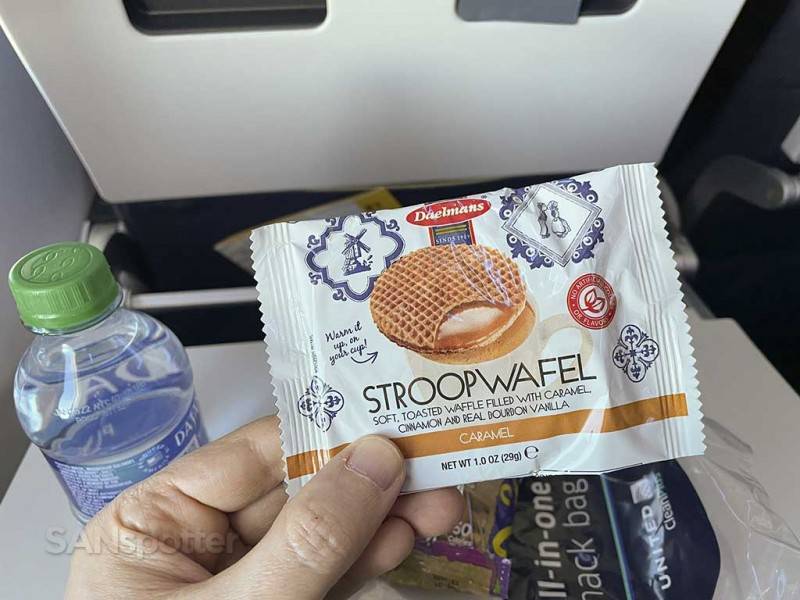 I hope you like Stroopwafels- because that's all you're gonna get in United short haul economy class.
If your flight is over 2 hours 20 minutes, United offers economy passengers on premium transcontinental flights a complimentary "all-in-one" snack bag with two snack bags and an 8.5-ounce bottle of water.
International economy class

The food you'll get in United long haul (international) economy class is similar to what you'll get on American Airlines. It all probably comes from the same factory anyway, so don't expect much of a difference.
Domestic first class

First class passengers will be offered a sandwich or snack box on short flights, and a full meal on transcontinental flights (just as it is on American Airlines).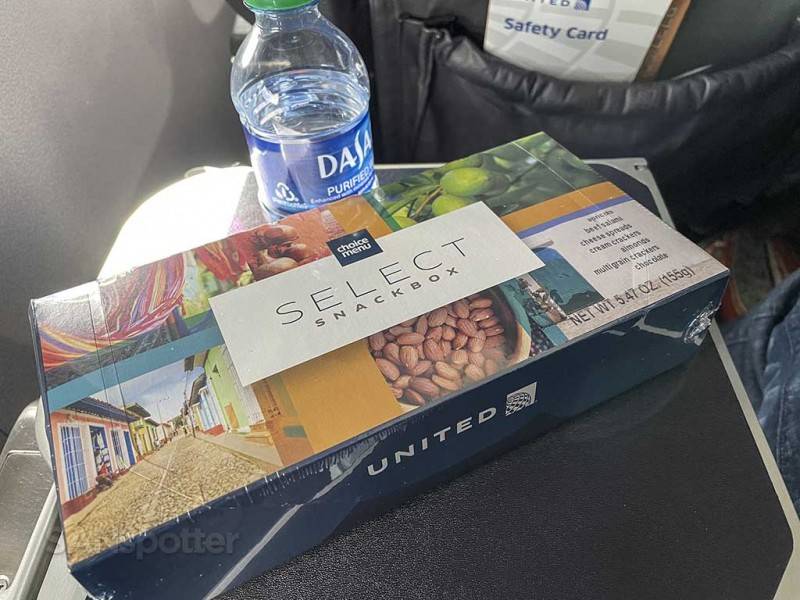 The United Airlines first class snack box. The best part? No Stroopwafels to be found!
International business class

United international business class meals consist of an entree, salad, snack, and ice cream for dessert (on select flights). On longer flights, passengers will receive a complimentary mid-flight and pre-arrival food or drink. For what it's worth, I don't think the food in United international business class is any better than what you'll get on American Airlines. It's a draw.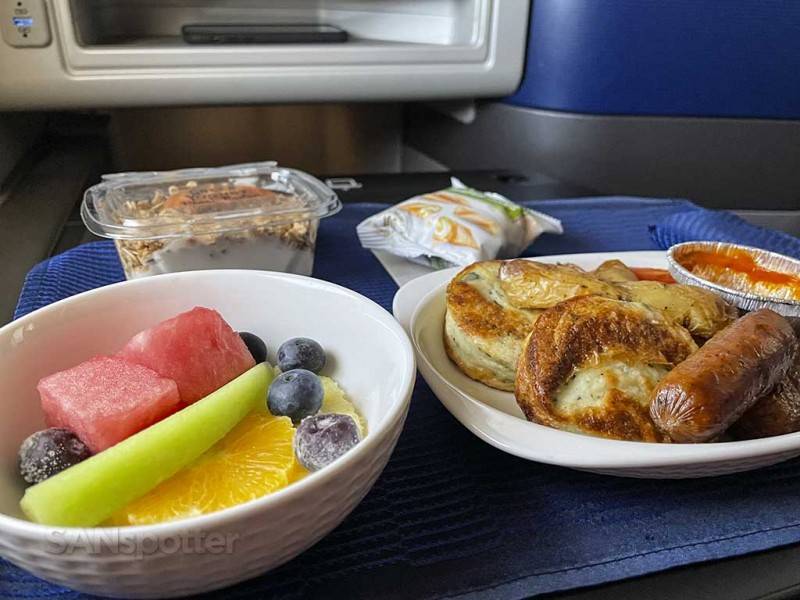 A typical breakfast in United International business class. Trust me – it tastes better than it looks.
Which of these two airlines do I prefer?
According to my flight log, I've flown United Airlines 129 times over a distance of 192,000 miles so far. In comparison, I've flown American Airlines 49 times over 110,000 miles. Although it may seem that I prefer United, I don't like them that much better than American.
The fact that I'm equally impartial to both of these airlines is interesting to me. For example, I can't stand Pepsi but I love Coke. I much prefer iOS over Android. And given the choice between a Ford Mustang and a Chevy Camaro, it's the Mustang all day long.
Heck, even when comparing JetBlue vs American, it was easy to choose JetBlue as the winner. Why am I so ambivalent about this American Airlines vs United comparison?
I think comes down to how I concluded my Qatar Airways vs Emirates comparison: It all comes down to the fact that I'm a value conscious flyer, and I'll choose whatever is most economically convenient. And based on the data (my flight log) it appears as if United has consistently offered me a better price more times than American Airlines has.
I wish it was more sexy of a conclusion than that, but it is what it is.
Основные направления
Внутренние направления связывают все значимые города США.
Международные линии:
Абу-Даби, Александрия, Буэнос-Айрес, Галифакс, Кувейт, Фаро, Токио;
Абердин, Апиа, Брюссель, Дакар, Калгари, Мадрид, Манагуа, Осака;
Аккра, Анкона, Варшава, Гонконг, Копенгаген, Лондон, Оттава, Сеул;
Абуджа, Бирмингем, Ванкувер, Джорджтаун, Манчестер, Хошимин;
Аделаида, Белиз, Виннипег, Дели, Канкун, Мехико, Нагоя, Париж;
Аддис-Абеба, Брисбейн, Вена, Женева, Мельбурн, Мюнхен, Шэннон;
Амстердам, Бостон, Гватемала, Дюссельдорф, Монреаль, Шанхай;
Йоханнесбург, Лиссабон, Монтеррей, Окленд, Пекин, Пунта-Кана;
Нассау, Порто, Пуэрто-Вальярта, Франуфурт-на-Майне, Сан-Хосе;
Рио-де-Жанейро, Фрипорт, Раротонга, Сан-Сальвадор, Стокгольм;
Роатан, Рим, Сан-Педро-Сула, Сен-Мартен, Сидней, Тегусигальпа;
Сан-Паулу, Сан-Хуан, Сингапур, Тайбэй, Цюрих, Торонто, Эдмонтон.
Самолёты United Airlines летают в государства СНГ, в Россию — в московский аэропорт.
Популярные направления авиакомпании United Airlines
| Место | Направление | Найти билеты |
| --- | --- | --- |
| 1 | Нью-Йорк → Франкфурт-на-Майне | |
| 2 | Франкфурт-на-Майне → Нью-Йорк | |
| 3 | Вашингтон → Франкфурт-на-Майне | |
| 4 | Нью-Йорк → Вашингтон | |
| 5 | Лос-Анджелес → Нью-Йорк | |
| 6 | Майами → Нью-Йорк | |
| 7 | Вашингтон → Нью-Йорк | |
| 8 | Лос-Анджелес → Чикаго | |
| 9 | Нью-Йорк → Вашингтон | |
| 10 | Франкфурт-на-Майне → Вашингтон | |
Business Class
United Airlines Business Class service is available on flights between the U.S. and Latin America or the Caribbean.
Business Class Facilites
Passengers flying United Business can enjoy a more relaxed travel experience from check-in to baggage claim. Premier Acess travel services mean Business Class passengers can avoid the stress of the airport floor and instead make use of designated airport check-in lanes, exclusive security lanes and Premier Access priority baggage handling. Once in the air, passengers can savour fresh, restaurant-quality meals and entree choices that were selected by renowned chefs.
What are Business Class Seats Like?
In the new, extra-spacious United Airlines seats there's room to relax and to work. With a six-way adjustable headrest and a padded seat cushion, you'll be able to sit back and relax on your United flight. There's also no need to worry about any of your personal devices running out of battery, as United Airlines Business Class seats feature a universal power socket to charge your laptop and mobile throughout your flight. You can also find a granite topped extendable cocktail table in the center that allows you to keep your tray table free for eating, working and entertainment.
Food
Meal Options
Economy passengers flying within North America, the Caribbean and most of Latin America are offered complimentary snacks, with the option to purchase meals and snacks in the in-flight service.
Economy passengers flying to or from Asia, Europe, the Middle East, the South Pacific and selected destinations in Latin America are given a complimentary 3-course meal, and additional snack course for flights longer than 12 hours.
Premium class passenger meals are dependent on the flight duration time. To see sample menus to see what may be offered, click here.
For passengers travelling Business Class or United Polaris First, all food is complementary, including arrival snacks and a 5-course meal.
Drinks & Alcohol
United Airlines have a full drink trolley service on their flights including alcoholic beverages (beer, wine, spirits), soft drinks and hot drinks. Economy passengers are given one complimentary drink and First and Business class passengers receive a complimentary premium drink upon arrival, including fine wines, spirits, regional beer or champagne.
The final ranking
Winner: Southwest
2nd place: United
3rd place: American
The unmistakable Florida coast below as a United Airlines 737-700 begins its descent to Miami … International.
Gabriel Leigh
In many ways the final ranking is the opposite of what it should have been. American Airlines' transcontinental "Flagship" flight in business class with a more extensive service and a private lie-flat seat had every advantage to win this. And yet the airline's overall attitude and lack of care during boarding and cleaning of the aircraft sent AA straight to last place instead. This may be something the airlines should take note of. Especially right now, you don't need a lot of bells and whistles to excel at passenger air service. What you need is the right approach, and to get the basics right.
Flights to the United States
Browse origins:
$81
Alabama
$179
Alaska
Arizona
$57
Arkansas
California
$51
Colorado
$56
Connecticut
$39
District of Columbia
$39
Florida
$54
Georgia
$61
Hawaii
$49
Idaho
$42
Illinois
$39
Indiana
$39
Iowa
$100
Kansas
$39
Kentucky
$57
Louisiana
$118
Maine
$39
Maryland
$39
Massachusetts
$39
Michigan
$39
Minnesota
$118
Mississippi
$42
Missouri
$68
Montana
$83
Nebraska
$39
Nevada
$39
New Hampshire
$52
New Jersey
$39
New Mexico
$52
New York
$55
North Carolina
$75
North Dakota
$54
Ohio
$61
Oklahoma
$45
Oregon
$46
Pennsylvania
Philadelphia
$51
Rhode Island
$44
South Carolina
$61
South Dakota
$41
Tennessee
Texas
$61
Utah
$126
Vermont
$39
Virginia
$49
Washington
$80
West Virginia
$71
Wisconsin
$51
Wyoming
Yellowstone National Park
View more
Browse destinations:
Flights » 
Worldwide » 
North America » 
Flights to United States
$79
Alabama
$179
Alaska
Anaheim
Annapolis
$49
Arizona
$53
Arkansas
Aurora
Belleville
Bentonville
Berkeley
Beverly Hills
Big Bear
Big Bear Lake
Big Sky
Big Sur
Biloxi
Block Island
Boca Raton
Boulder
Bradenton
Breckenridge
Brooklyn
$39
California
Canton
Cape Canaveral
Cape Coral
Cape May
Carlsbad
Carmel-by-the-Sea
Carson City
Chesapeake
Cheyenne
Chico
Clearwater
Clearwater Beach
Cocoa Beach
Coeur d'Alene
$54
Colorado
$66
Connecticut
Cooperstown
Costa Mesa
Crested Butte
Dauphin Island
$54
Delaware
Delray Beach
$42
District of Columbia
Durham
East Lansing
Elmira
Estes Park
Eureka
Eureka Springs
Everett
Falmouth
$39
Florida
Fort Collins
Fort Hood
Fort Myers Beach
Fort Walton Beach
Freeport
Fremont
Galveston
Gatlinburg
Georgia
Gilbert
Glenwood Springs
Grand Prairie
Gulf Shores
Hampton
$61
Hawaii
Huntington Beach
$55
Idaho
$55
Illinois
$39
Indiana
$44
Iowa
Iowa City
Irvine
Irving
Islamorada
Jekyll Island
Jersey City
Johnson City
Joshua Tree
Kailua
$102
Kansas
$42
Kentucky
Key Largo
Kiawah Island
Kingsport
Kissimmee
Lafayette
Laguna Beach
Lake Havasu City
Lake Placid
Las Cruces
Laughlin
$51
Louisiana
Mackinac Island
Mackinaw City
$118
Maine
Malibu
Marco Island
$42
Maryland
$39
Massachusetts
Mesa
Miami Beach
$39
Michigan
$58
Minnesota
$148
Mississippi
$63
Missouri
Modesto
Monrovia
$68
Montana
Montauk
Napa
$39
Nebraska
$39
Nevada
$39
New Hampshire
$54
New Jersey
$41
New Mexico
New Smyrna Beach
$54
New York
Newburgh
Newport Beach
$39
North Carolina
$72
North Dakota
North Myrtle Beach
Ocala
Ocean City
Odessa
Ogden
$55
Ohio
$61
Oklahoma
Orange Beach
$51
Oregon
Oshkosh
Pagosa Springs
Palm Desert
Palo Alto
Panama City Beach
Park City
Pasadena
Paso Robles
Pebble Beach
$42
Pennsylvania
Pensacola Beach
Petersburg
Pigeon Forge
Pismo Beach
Pompano Beach
Port Aransas
Port St. Lucie
Portsmouth
Pueblo
Rehoboth Beach
$51
Rhode Island
Riverside
Rosemary Beach
Ruidoso
Saginaw
Saint Paul
Salamanca
Salem
Salinas
San Clemente
San Pedro
Scottsdale
Sedona
Siesta Key
Sonoma
$55
South Carolina
$75
South Dakota
South Lake Tahoe
South Padre Island
St. Charles
St. Cloud
Steamboat Springs
Sun Valley
Temecula
Tempe
$39
Tennessee
Texarkana
Texas
Topeka
Tuscaloosa
Tybee Island
$54
Utah
Ventura
$125
Vermont
Vero Beach
$45
Virginia
Virginia Beach
$52
Washington
$103
West Virginia
Whitefish
Wilkes-Barre
Williamsburg
Wilmington
$51
Wisconsin
Wisconsin Dells
$54
Wyoming
Yellowstone National Park
View more
Авиакомпания United Airlines
IATA код авиакомпании: UA
Международное название авиакомпании: United Airlines(Юнайтед Эйрлайнc)
United Toll Free Call Center 8 10 800 2290 10 44
Бонусная программа для частолетающих пассажиров: Mileage Plus
Бонусная программа для корпоративных клиентов: Star Alliance Company Plus
Авиационный альянс: Star Alliance
Сайт авиакомпании www.united.com
Представительство United Airlines в Москве: +7 (499) 272-1602Представительство United Airlines в Санкт-Петербурге: продажа авиабилетов в аккредитованых BSP IATA агентствах
Посмотреть представительства в других городах и странах на сайте авиакомпании United Airlines
100% дочернее предприятие UAL Corporation (Nasdaq: UAUA) выполняет 3 300 рейсов ежедневно (авиакомпании United и United Express) более чем по 200 внутренним маршрутам по США и на международных направлениях через хабы в Лос-Анджелесе, Сан-Франциско, Денвере, Чикаго и Вашингтоне. United является одним из крупнейших международных авиа перевозчиков, базирующихся в США, охватывая сетью полетов Азиатско-Тихоокеанский регион, Европу и Латинскую Америку. United также входит в состав Star Alliance, являясь одним из его основателей. Альянс обеспечивает нашим пассажирам стыковки по 1071 направлениям в 171 стране мира. В штат авиакомпании входят 47 000 сотрудников, проживающих в каждом из штатов Америки, и также по всему миру.
30 марта 2009 американская авиакомпания United совершила свой первыйбеспосадочный рейс по маршруту Москва — Вашингтон.
Полеты в оба направления пять дней в неделю, а начиная с 1 июня – ежедневно,открыли новую страницу авиационного сообщения между столицами США и России.United предоставляет пассажирам United удобный трансфер из Вашингтонав более чем 61 город США, Канады и Карибского бассейна.
Рейсы по маршруту Москва (Домодедово) – Вашингтон (Даллес) будут выполнятьсяна ВС Боинг 767-300 с трех классной конфигурацией салона, включающей 6 кресел United First класс, 26 кресел United Business класс и 151 кресло United Economy класс, из них 63 кресла Economy Plus класс.United реализует многомиллионную программу по модернизации своего авиапарка,в результате которой United уже предлагает пассажирам рейса Москва – ВашингтонUnited First и United Business классов полностью раскладывающиеся на 180 градусов кресла,современную многофункциональную систему развлечения, а также все необходимые условия для комфортной работы, отдыха и сна во время путешествия.
Авиабилеты авиакомпании United AirlinesПосмотреть расписание рейсов,забронировать авиабилеты авиакомпании Юнайтид Эйрлайнз онлайн Вы можете на нашем сайте в разделе АВИАБИЛЕТЫ.
Версия для печати
Flight 3: Southwest Airlines – Los Angeles to Oakland
The Southwest flight was the shortest, and it was the only one in economy class. The airline doesn't even offer a business or first class. And yet in many ways it was the best flight of the three. Why? Because Southwest got all the basics right. It felt throughout the process that the airline took flying in a pandemic seriously. At the same time, cabin crew were light-hearted, friendly and funny. That's what Southwest is known for, and it proved especially appealing at a time like this.
A clean and orderly flight on a new plane with Southwest Airlines.
Gabriel Leigh
The flight was simple, but the plane looked and smelled squeaky clean. Middle seats were blocked. There was a service of just water and pretzels – nothing special, but when they could have gotten away with serving nothing at all, it came across as a nice gesture. Boarding was done in such a way that each group of ten people to board were given time to get on the plane so that we didn't end up all jammed into a jet-bridge. The flight was on time.
When it comes down to it, what more can you ask for?
Southwest Airlines 737-800 parked at the gate at Oakland.
Gabriel Leigh
Flight 1: United Airlines – Newark to Miami
United Airlines aircraft await to depart a gloomy Newark Airport last month.
Gabriel Leigh
Judging by reports from friends and colleagues in recent months, my expectation was for United to offer a fine but unremarkable service. Reality matched these expectations exactly. United didn't do anything especially wrong, but the airline didn't particularly stand out, either. A perfectly decent service, but nothing to write home about.
MORE FROMFORBES ADVISOR
How To Pick An Airline Credit Card
ByDia Adams editor
The flight was an 8:30am departure in First Class, which in this case meant a typical domestic recliner seat at the front of the 737. Seats were laid out 2-by-2. United offers no seat blocking for distancing, so naturally the cabin was full and there was a seat mate not more than two feet away. Whether that's a problem or not will depend on personal preferences. In this case it seemed fine. Everyone wore a mask and United was conscientious about reminding people to keep them on. If convenience and price were equal it would probably be better to fly Delta from New York to Florida because they still block seats (though not for much longer). However as Newark was much more convenient and the price was really good (around $200), United seemed a good choice in this case.
When flying, a gin & tonic and cold turkey sandwich is a perfectly acceptable breakfast.
Gabriel Leigh
There was a simple breakfast service, as well as a full bar. The food was average domestic fare. It didn't look like much but it wasn't bad. In normal times there would have likely been a couple of hot breakfast options, but these are rarely much good on US carriers anyway, so it didn't feel as if much was missing. The flight attendant wasn't excessively friendly but wasn't surly either.
Inflight Entertainment
United offers various types of inflight entertainment on its flights. Passengers can find out which entertainment options will be provided on their flight by checking the Flight Status information for their flight on the United website. Inflight entertainment services will vary according to the aircraft and the ticket fare class.
TV
United offers a range of popular TV shows on its flights including popular classic comedies such as Friends, Modern Family and Will and Grace as well as contemporary dramas.
Movies
Find the right film to fit your tastes with United's wide collection of movies. From cult classics to new releases, United has something to fit every taste. With a large selection of Disney films, there's no need to worry about bored children with the excellent movies on your United flight.
Comparing the route networks
Both airlines have extensive route networks and fly to various destinations around the globe. Let's compare the differences between the two networks:
American Airlines route network

American Airlines provides service to more than 350 destinations worldwide, which is the second of any airline. They have an extensive route network with destinations throughout 50 countries.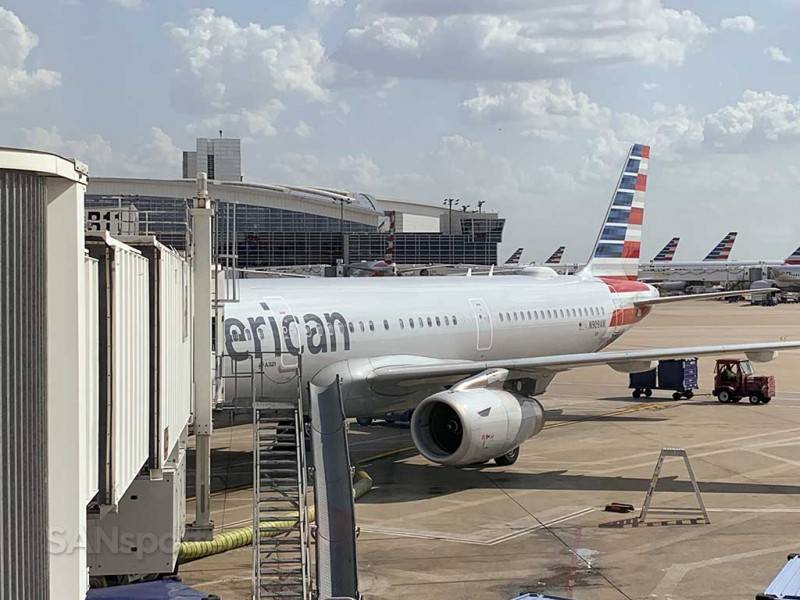 I'm fairly certain that this is a well-traveled A321. American Airlines works these things hard!
Thier primary international focus is South America, with their second primary focus being Europe. They haven't been able to get much traction in Asia and the South Pacific.
United Airlines route network

United has an impressive route network, as it serves nearly 370 destinations worldwide – the most of any airline. Its primary international focus is Europe, with its second primary international focus being Asia. They also serve up to 73 countries worldwide, more than that of American Airlines.
Корпоративная деятельность
Штаб-квартира
Штаб-квартира American Airlines находится в Форт-Уэрте, штат Техас, рядом с международным аэропортом Даллас/Форт-Уэрт. Она расположена в двух офисных зданиях комплекса CentrePort на площади 130.000 квадратных метров. По состоянию на 2014 год в комплексе работало более 4300 сотрудников.
Ранее штаб-квартира American Airlines располагалась по адресу 633 Third Avenue в районе Марри-Хилл в центре Манхэттена, Нью-Йорк. В 1979 году авиакомпания переместила свою штаб-квартиру в Даллас/Форт-Уэрт, что повлекло сокращение до 1300 рабочих мест. Мэр Нью-Йорка Эд Коч назвал этот шаг как предательство. Авиакомпания переехала в два арендованных офисных здания в Гранд-Прери, штат Техас.17 января 1983 года American завершила переезд ценой в $150 млн ($369 млн сегодня, с поправкой на инфляцию).
По состоянию на 2015 год American Airlines является крупнейшей корпорацией в Форт-Уэрте.
Новая штаб-квартира
В 2015 году авиакомпания объявила о строительстве новой штаб-квартиры в Форт-Уэрте. Строительство началось весной 2016 года, срок сдачи запланирован на лето 2019 года. Планируется, что это создаст 5000 новых рабочих мест.
Субсидии федерального правительства США
По состоянию на ноябрь 2013 года American Airlines и American Eagle получили $10.011.836 в виде ежегодных федеральных субсидий. Эти субсидии предоставляются на основе публичных торгов для развития небольших региональных аэропортов.
Профсоюзы
Allied Pilots Association (APA) — представляет почти 15.000 пилотов американских авиакомпаний, он был создан в 1963 году, после того, как пилоты покинули Международную ассоциацию пилотов (ALPA). Большинство пилотов American Eagle остаются членами ALPA.
Ассоциация профессиональных бортпроводников (APFA) — представляет интересы бортпроводников American Airlines, включая бывших бортпроводников USAirways.
Association of Flight Attendants — Communications Workers of America (AFA-CWA) — представляет интересы бортпроводников региональных авиалиний American Airlines. Бортпроводники USAirways были активными членами AFA-CWA до слияния. Они являются почетными пожизненными членами. AFA-CWA является крупнейшим союзом бортпроводников в отрасли и управляется бортпроводниками.
Transport Workers Union of America (TWU-IAM) — представляет большинство работающих в авиакомпании технических специалистов по обслуживанию флота, механиков и других наземных работников.
Communications Workers of America/International Brotherhood of Teamsters — представляет работников обслуживающих клиентов и работников гейтов.
Экология
American Airlines, в период четырёх с половиной лет, с октября 1993 года по июль 1998 года, использовала топливо с высоким содержанием серы, что нарушало федеральный закон «О чистом воздухе». Впоследствии авиакомпания выявила и исправила эти нарушения.
Завод по обработке сточных вод авиакомпании сэкономил почти 1 миллион долларов с 2002 года. В дополнение к этому, American Airlines также выиграла награду за сокращение опасных отходов, которые сэкономили им $229.000 после инвестиций в $2.000. Для отслеживания опасных отходов используется система штрих-кодов. Это привело к уменьшению отходов на 50 процентов с 2000 года.
Спонсорство
American Airlines является титульным спонсором двух баскетбольных площадок: American Airlines Center (команды Даллас Маверикс и хоккейная Даллас Старз) и American Airlines Arena (команда Майами Хит).
Авиакомпания является спонсором следующих спортивных команд:
Каролина Пэнтерс
Чикаго Кабс
Даллас Ковбойз
Даллас Маверикс
Нью-Ингленд Пэтриотс
Нью-Ингленд Революшн
Филадельфия Иглз
Правила перевоза багажа
Норма регистрируемого багажа — 1,58 м по сумме 3 длин.
| | |
| --- | --- |
| Класс авиабилета | Нормы провоза багажа |
| Economy | 23 кг/50 фунтов |
| Business First Polaris first class Polaris business class | 32 кг/70 фунтов |
Сдаваемый багаж для членов программы лояльности
| | |
| --- | --- |
| Статус MileagePlus | Нормы провоза багажа |
| PremierSilver | 23 кг/50 фунтов |
| PremierGold PremierPlatinum Premier1K StarAllianceGold | 32 кг/70 фунтов |
 Нормы ручной клади
| | |
| --- | --- |
| Тариф | Лимиты |
| BasicEconomy | 1 личная вещь — 0,43 х 0,25 х 0,22 м 1 сумка за доплату — 25 долларов США |
| Все остальные | 1 личная вещь — 0,43 х 0,25 х 0,22 м 1 сумка — 0,56 х 0,35 х 0,22 м |
| Один дополнительный предмет из перечня для всех тарифов | Сумка/зонт/пресса; питание/покупки из торговой зоны аэропорта; складная коляска/сумка для пелёнок; клетка для питомца; складная инвалидная коляска/трость/костыли/медустройство |
WIFI
Connect to 'United Wi-Fi' and enjoy high-speed internet connection while you fly. United Airlines WIFI is powered by GoGo, Panasonic, Thales and ViaSat, depending on where you fly to. WIFI with United Airlines allows you to access all the apps and that you'd usually use on the ground so that you don't miss out!
WIFI Price
United Airlines also give the option to purchase an annual subscription, which costs $539 USD on all flights in North America and Central America and $689 USD on flights globally.
You can also purchase United Airlines WIFI inflight. although prices will differ depending on which route you're flying.
First Class
Experience maximum comfort and style with United First.
First Class Facilities
Ease through security and check-in with Premier Acess benefits which grants you Premier Access check-in, security and priority boarding. There's also no need to worry about checking additional luggage with a baggage allowance of two standard size checked bags included in your ticket fare. Once on board you'll be able to enjoy a range of high-quality meals made by United's team of renowned chefs.
What are First Class Seats Like?
Once in the air, passengers can stretch out in the brand new, extra-spacious United First seats. Featuring a stylishly contoured two-tone leather, a six-way adjustable headrest and padded seat cushions. There's also room to store all your electronic devices and personal items.