Статусы почтовых отправлений
По состоянию на 2019 год официальный трекер почты Австралии предусматривает такие статусы посылок:
Статус
Перевод
Значение
Awaiting collection
Ожидает получения
Посылка доставлена в отделение почты и ожидает получателя
Contact sender
Свяжитесь с отправителем
Посылка возвращена отправителю с уведомлением о причинах возврата
Customer enquiry lodged
Получен запрос клиента
Отправитель либо получатель этого отправления обратились с вопросом в отдел обслуживания клиентов
Delivered
Доставлена
Посылка передана получателю. Если вы видите это уведомление, но не получали посылку, нужно обратиться в соответствующий отдел почты
Despatched
Отправлена
Посылка прошла почтовое оформление и передана международной службе доставки
In transit
В пути
Отправление двигается по логистической цепочке между точками отправления и доставки
Invalid track ID
Неправильный идентификатор отслеживания
Этот статус может значить, что:
– вы допустили ошибку в коде;
– посылка с этим кодом еще не отсканирована и не попала в базу данных, нужно подождать от нескольких часов до 1 суток;
– истек срок давности кода (2 месяца)
Not trackable  или
Нельзя отследить
Выбранная служба доставки не поддерживает трекинг
Product not trackable  или Sorry, this item can't be tracked
Pending
Ожидается
Посылка еще не прошла оформление, в ближайшие 24 часа статус должен измениться
Possible delay
Возможна задержка
Доставка откладывается из-за таможенных процедур, ситуации на дорогах или чрезвычайных происшествий
Processing
Обработка
Информация о посылке введена отправителем в онлайн-систему и обработана почтой
Started
Начато
Информация введена отправителем в онлайн-систему, но сама посылка еще не поступила в отделение почты
Unable to gain access
Не вышло получить доступ
Почтальон не смог доставить посылку по указанному адресу. В таком случае посылку нужно будет получить в ближайшем отделении почты
Unsuccessful pickup
Не вышло получить посылку для отправления
Отправитель при оформлении посылки указал, чтобы ее забрал курьер, но в назначенное время курьер не смог получить посылку
Australia Post Same Day
Australia Post Same Day service is available in selected areas of Australia. Australia's same-day deliveries mean that the order will be delivered on the next business working day after the posting date — normally this means if you placed an order before 12:00 PM then it should reach its destination within 24 hours including weekend days! This excludes public holidays and some rural areas which may take longer than expected. 
You will be offered several different Australia Post Same Day services available, depending on your location:
Metro Areas (Sydney NSW, Melbourne VIC, and more);
Regional areas of New South Wales & Victoria. 
For a complete list please visit the official page at Australia Post. You also will be offered same-day collections if you need to send items quickly from one place to another within the country. For Australia Post to be able in providing our service, you have allowed up to 30 minutes before their preferred pickup time window begins as drivers may run behind schedule occasionally plus, they will have enough time required to prepare your package(s). 
All packages are delivered by hand with signature confirmation so no exceptions ever! Drop-offs are also available on-demand for most pick-up services.
Drop off and collection hours: 
Monday — Friday 07:00 AM to 04:30 PM,
Saturday 08:00 AM to 03:30 PM (excluding public holidays).
Track and trace your international shipping
Online buyers check delivery status not out of curiosity — in fact, they try to make sure that their packages arrive within buyer protection period. If customers do not receive a package on time, they may ask the seller to extend the period or open a dispute and ask for a refund.
eBay has created a convenient service for sellers, eBay Global Shipping Program, so that any seller may expand the geography of sales without undue problems. Under this program, the sellers first deliver their items to a centralized hub, and they get delivered to the buyers by various international and local courier services. Read more.
Even cheap AliExpress products get assigned with tracking codes. An item should be more than $2 in price and meet the requirements of most Chinese carriers in size. Over 50 postal services deliver AliExpress orders from China to other countries worldwide, and Postal Ninja supports tracking number formats of all of them. Learn more.
High-quality Chinese products are also available on WISH. Although they are a bit more expensive than on AliExpress, even including the delivery price, it is significantly more profitable than in the domestic outlets. And their own delivery service WishPost, as well as other Chinese carriers, including ePacket, are more convenient to get tracked on Postal Ninja. Read more.
ASOS ("As Seen On Screen") is a British online fashion and cosmetics retailer that cooperates with courier services such as wnDirect, TrakPak, and DPD. In terms of tracking, its packages have a particular feature — they can be traced by shipping id as well as by order number. More info.
Australia Parcel Post
Australia Parcel Post is the main postal service provider in Australia. The company has been working since 1792 and is an official post office of the country. It provides a complete range of transport services.
Australia Parcel Post offers all types of parcels, including small ones for letters or items bought online by customers from local shops or large companies like Amazon. Additionally, there are also several delivery options available depending on whether you want your package to arrive at the home within the next hour, if it needs to be delivered even during weekends, etc. 
The main problem, however, might be when you have not received any notice about your shipment being shipped yet and there are no updates on its status for several days.
Australia Mail — Parcel tracking statuses
Awaiting collection at IT-, ITALY
In transit to next facility in WARABROOK NSW
Arrived at postal carrier\'s facility in Poland
Item arrived in destination country bag scanned by local Post
到达【北京航站】(经转)
Landed in Gabon
Shipment confirmation
In transit to next facility in MELBOURNE SOUTH EAST VIC
In transit to next facility in SALISBURY SOUTH SA
In transit to next facility in BRISBANE AIRPORT QLD
Landed in Greece
【北京国际天竺处理中心】已出口直封
Awaiting collection at AMSTERDAM (NL)
In transit to next facility in WAGGA WAGGA NSW
Cleared by Customs
Delivered
Item despatched to Transshipment hub
Item arrived
In transit to next facility in DANDENONG SOUTH VIC
Awaiting collection at WONGAN HILLS LPO
Departed Facility in SHENZHEN
Awaiting collection at SEVEN HILLS POST SHOP
Received by line-haul
Awaiting collection at ID-11000, INDONESIA
In transit to next facility in WOLLONGONG NSW
Uplifted from Transshipment Hub
Arrived at facility
Awaiting Collection at Mentone East LPO
Awaiting collection at Melbourne law courts post shop
In transit to next facility in SEVEN HILLS NSW
Attempted Delivery
Arrived at facility in destination country
Attempted delivery — Receiver not known at address
Arrived at postal carrier\'s facility in Greece
Carded — awaiting collection
离开【廊坊国际项目部】,下一站【廊坊集散】
Delivered to community mailbox, parcel locker or apt./condo mailbox
In transit to next facility in BOTANY NSW
Arrived at Facility
In transit to next facility in STANTHORPE QLD
Landed in Belgium
Awaiting collection at COLOMBO PCL, SRI LANKA
Departed from AIRPORT of Origin
Import stopped by Customs (Inbound)
Received by customs for clearance
Awaiting collection at NLAMSA
Landed in Germany
Item processed
In transit to next facility
Awaiting collection at BRIGHTON DC
Picked Up from Sender
Awaiting Collection at New Farm Post Shop
Item in transit
Accepted at post office
Arrived at Post Office
Landed in New Caledonia
Arrived at USPS Regional Destination Facility
Delivered — Left in a safe place
Outbound in sorting center
Landed in China
Airline departed from original country
International arrival — awaiting clearance
Arrived at Sort Facility SHENZHEN
Customer enquiry lodged
On board with driver
Shipping information received by Australia Post
In transit to next facility in MELBOURNE VIC
In transit to next facility in DARWIN NT
Arrived at postal carrier\'s facility in Lebanon
Processed through facility
Shipping information approved by Australia Post
Awaiting collection at ST ALBANS DELIVERY CENTRE
In transit to next facility in YORK WA
Shipment information received
Arrived at postal carrier\'s facility in Russian Fed.
Processed Through Facility
In transit to next facility in KURNELL NSW
Received by overseas carrier
In transit to next facility in STAPYLTON QLD
In transit to next facility in THURINGOWA CENTRAL QLD
In transit to next facility in CANNING VALE WA
In transit to next facility in NANANGO QLD
Processed by air carrier
Received and ready for processing
Delivered to post office box
Leave in a safe place requested
Returned to Sender
Arrive at international airport to abroad
Landed in Malaysia
Lodged by Sender
In transit to next facility in BUNGALOW QLD
Awaiting collection at CHILE
Import clearance success
Departed Facility In processing center
Leave in a safe place requested by Receiver
Processed at origin hub
In transit to next facility in MELROSE PARK SA
Awaiting Collection at Rockingham DC
Item Lodged
Transfer to delivery agent
Top Carriers
FedEx

American courier company
China Post

National Postal Service of China
Royal Mail

National Postal Service of United Kingdom
UPS

American courier service
OnTrac

American logistics company
Hermes

Courier delivery service
SpeedPAK

Logistics company
Canada Post

Canadian Postal Service
China Post EMS ePacket

EMS courier service in China
Yanwen Logistics

Chinese logistics company
LaserShip

Logistics company
Newgistics

Logistics company
Yun Express

Chinese logistics company
Parcelforce

UK Courier company
TNT

International express delivery service
Winit

Chinese logistics company
Pitney Bowes

Logistics company
Japan Post

National postal operator
Top Online Stores
DHGate

Wholesale marketplace
Lazada

Internet marketplace
LightInTheBox

Online marketplace
Shopee

E-commerce marketplace
Chain Reaction Cycles

Online store
VOVA

E-commerce marketplace
eGlobal Central

Marketplace
Postal tracking tools
Argentina
Correo Argentino
Correo Argentino
Australia
Australia Post
Australia Post
Austria
Österreichische Post
Österreichische Post
Belgium
bpost
Landmark Global
Landmark Global
Brazil
Correios de Brasil
Correios de Brasil
Bulgaria 
Bulgarian Posts 
Bulgarian Posts 
Canada
Canada Post
Chile
Correos Chile
Correos Chile
Croatia
Hrvatska pošta
Hrvatska pošta
Cyprus
Cyprus Post
Cyprus Post
Czech Republic 
Česká pošta
Česká pošta
Denmark
PostNord
PostNord
Egypt
Egypt Post
Egypt Post
Estonia 
Omniva 
Omniva
Finland
Posti
Posti
France
Le Groupe La Poste
Le Groupe La Poste
Colissimo
Colissimo 
Germany
Deutsche Post
Deutsche Post
DHL
DHL
Ghana 
Ghana Post
Ghana Post
Greece
ELTA
ELTA
Hong Kong
Hongkong Post
Hongkong Post
Hungary
Magyar Posta
Magyar Posta
Iceland
Iceland Post
Iceland Post
India
India Post
Indonesia
Pos Indonesia
Pos Indonesia
Ireland
An Post
An Post
Italy
Poste Italiane
Poste Italiane
Japan
Japan Post
Japan Post
Korea
Korea Post
Korea Post
Latvia 
Latvijas Pasts 
Latvijas Pasts 
Lithuania 
Lietuvos paštas 
Lietuvos paštas 
Luxembourg
POSTLuxembourg
POSTLuxembourg
Malaysia
Pos Malaysia
Pos Malaysia
Pos Laju
Pos Laju
Malta 
Malta Post
Mexico
Not available
Correos de México
Netherlands
PostNL
New Zealand
New Zealand Post
New Zealand Post
Nigeria
Nigerian Postal Service
Nigerian Postal Service
Norway
Posten Norge
Posten Norge
Bring
Bring
Philippines
PHLPost
PHLPost
Poland 
Poczta Polska 
Poczta Polska 
Portugal
CTT
CTT
Romania 
Poșta Română 
Poșta Română
Russia
Russia Post
Russia Post
Singapore
Singapore Post
Singapore Post
Slovakia 
Slovenská pošta 
Slovenská pošta 
Slovenia 
Pošta Slovenije 
Pošta Slovenije 
South Africa 
Not available
South African Post Office
Spain
Correos
Correos
Sweden 
PostNord
Switzerland
Taiwan
Chunghwa Post
Chunghwa Post
Thailand
Thailand Post
Thailand Post
Turkey 
PTT 
 
UK
Royal Mail
Royal Mail
Parcelforce
Parcelforce
Uruguay 
Correo Uruguayo 
Correo Uruguayo
USA
USPS
USPS
Where can I find my tracking number?
Where you can find your tracking number, or article ID, depends on what service was used to send your item and how it was posted.
For senders:
If your item was posted over the counter at a Post Office — then in many cases your tracking number, or article ID, can be found on the receipt provided.
If your item was sent using one of our tracked services such as prepaid satchels — your tracking number can be found on the barcode on your item, and/or on the removable sticker.
For receivers:
If you're expecting delivery of an item and the sender has given us your email address — Aussie Post will send you emails to let you know your tracking number and the progress of your item as part of their free Track Advice service.
If you've ordered an item online — the sender may have included the tracking number, or article ID, on your order confirmation or invoice.
International post and package tracking
Postal Ninja regularly monitors new names in the logistics field and follows changes in the work of carriers, especially of those that deliver packages from popular online stores.
SpeedPAK is a service set up by e-commerce giant eBay and logistics company Orange Connex Ltd. Most items purchased on eBay China get shipped with this delivery method. More info.
WINIT is a Chinese corporation engaged in global shipping and logistics. It provides solutions for cross-border e-commerce and has several warehouses located in China, the United States, Britain, Germany, and Australia. Learn more.
YANWEN is a logistics company that forwards e-commerce shipments to the destination country. It offers optimal logistics solutions due to cooperation with many international postal and courier services, primarily China Post, DHL Global Mail, Pos Malaysia, and Posti Finland. Read more.
4PX is an e-commerce solutions provider that cooperates closely with the national postal services of China and Singapore. The mode of delivery has plenty of other names: 4PX Express, 4PX Singapore Post, 4PX Singapore Post OM, 4PX Singapore Post OM Pro, and Singapore Post. More info.
About Universal Postal Union
Prior to the establishment of the UPU, each country had to prepare a separate postal treaty with other nations if it wished to carry international mail to or from them. In some cases, senders would have to calculate postage for each leg of a journey, and find mail forwarders in a third country if there was no direct delivery. To remove this complexity, the United States called for an International Postal Congress in 1863. This led Heinrich von Stephan, Royal Prussian and later German Minister for Posts, to found the Universal Postal Union. It is currently the third oldest international organization after the Rhine Commission and the ITU. The UPU was created in 1874, initially under the name «General Postal Union», under the Treaty of Bern signed on October 9, 1874. Four years later, the name was changed to «Universal Postal Union»
French is the official language of the UPU. English was added as a working language in 1994. The majority of the UPU's documents and publications – including its flagship magazine, Union Postale – are available in the United Nations' six official languages (French, English, Arabic, Chinese, Russian, and Spanish)
AU_StandardDelivery
AU_StandardDelivery is an Australia Post Domestic delivery service that allows you to track your packages and shipments in real-time. 
Australia Post provides three types of delivery methods for AU_StandardDelivery which are: 
Standard Delivery — Consistently fast shipping times (Business days) at a lower cost than Express Parcel services; 
Express Delivery — Fastest domestic service **(overnight), but costs more than standard delivery; 
International Standard Delivery — Low-cost postage method which is only available for international standard shipments. 
This service comes at three different prices depending on the size of your package/item (s):
$11.00 per shipment;
$15.50 per shipment;
$23.20 per shipment.
There are two types of returns Australia Post provides with this service to help you stay organized and on top of all your deliveries: 
Returns Label — This allows you to return any parcels/items that didn't get delivered properly at no additional charge to yourself. 
Return Postage Label — This is a label that you can use to return any parcels/items from your own home. However, this does require payment of $11.00 per shipment which will be deducted from the original order total and returned to the customer before being refunded back onto their nominated credit card account or PayPal account (if selected).
Examples of statuses which Australia Post shipment tracking passes
Statuses
A notice was left and the item will be forwarded to the postal unit for delivery
A notice was left for the addressee
A second notice was left for the addressee
Acceptance by the Post Services
Acceptance completed
Accepted at Post Office
Accepted by carrier
Accepted by destination post for processing
Accepted in Poland
Accepted in the destination country
Adopted mailing to send
Aguardando pagamento
Aircraft take off
Allocated to delivery staff
Allocated to postman
An attempt has been made to reach the customer
An import customs declaration has been submitted for the item
Arrival in destination country
Arrive destination country
Arrive in Hong Kong
Arrived at airport facility
Assigned to load plan
Associated to Parcel Locker
At destination sort facility
Attempt of Delivery
Attempted Delivery
Attempted to delivery
Available for Pickup
Available for Redelivery or Collection
Can be collected at the post office
Cancel item export
Change of delivery address as requested by customer
Clearance in progress
Cleared by Customs
Cleared from Customs
Cleared through the Customs
Collected at the post office
Commencement of customs clearance
Completion of customs procedures
Confirmation by Customs
Container with your item is processed at the airport
Customer enquiry lodged
Оперативная разработка [ править ]
Уличные почтовые ящики экспресс (желтый) и обычный (красный) в 2005 г.
Сортировочный центр Riverina Mail в Вагга-Вагга , Новый Южный Уэльс
Сельское почтовое отделение в Пингелли, Западная Австралия.
В ответ на давление со стороны конкурентов в 2019 году почта Австралии продолжила расширять ассортимент своей продукции и услуг, инвестировав в обширные технологические инфраструктурные программы. Он работает в трех основных областях: письма и сопутствующие услуги; розничная торговля товарами и агентские услуги; посылки и логистика. У него есть несколько дочерних компаний и совместных предприятий, включая Sai Cheng Logistics International – совместное предприятие логистической компании , созданное с China Post в 2005 году.
Почта Австралии осуществляет обычную доставку почты, а также экспресс / курьерскую службу через Messenger Post (теперь торгуется как Startrack Courier). Он доставляет почту каждый день недели.
Почта Австралии является самофинансируемой и использует свои активы и ресурсы для получения прибыли, которую можно реинвестировать в бизнес или вернуть в качестве дивидендов своему единственному акционеру, правительству Австралии . В соответствии со своими обязательствами по общественным работам, Australia Post стремится предоставить доступную, недорогую и надежную службу письменной корреспонденции для всех австралийцев, где бы они ни проживали. Корпорация охватывает более 10 миллионов австралийских адресов; управляет 6 990 почтовыми отделениями; и обслуживает более миллиона клиентов в почтовых отделениях каждый рабочий день. Когда 4 января 2016 года базовый тариф на внутреннюю письменную корреспонденцию был повышен до 1 доллара США, Не было изменений в ценах на концессионные марки или сезонные поздравительные марки, которые остались на уровне 60 центов и 65 центов соответственно. В то же время была введена категория «Приоритетная» почта (в отличие от «Обычной»), в соответствии с которой менялись стандарты доставки и требовалась 50-центовая этикетка «Приоритет» в качестве дополнительной оплаты за лучший стандарт.
В соответствии с Законом об Австралийской почтовой корпорации 1989 года, письма весом до 250 граммов зарезервированы для почты Австралии – другие люди и предприятия могут перевозить их только в том случае, если они взимают четырехкратную плату за пересылку. Все остальные товары и услуги, предоставляемые Почтой Австралии, продаются на полностью конкурентных рынках, и в 2005–2006 годах почти 90% прибыли корпорации (от обычной деятельности до вычета чистых процентов и налогов) приходилось на продажу товаров и услуг на конкурентных условиях. рынки.
Перевозчики
Почта России

Государственная почтовая служба России
СДЭК

Служба курьерской доставки
УкрПочта

Национальная почтовая служба Украины
НоваПошта

Украинская курьерская компания
КазПочта

Национальная почтовая служба Казахстана
Деловые Линии

Российская транспортная компания
ТК ПЭК

Российская автотранспортная компания
БелПочта – Почта Беларуси

Национальная почтовая служба Республики Беларусь
ТК Энергия

Российская транспортная компания
ТК КИТ

Транспортная компания КИТ в России
Boxberry

Служба доставки в России
TNT

Международная служба экспресс-доставки
DPD Россия

Курьерская служба DPD
Meest Express

Логистическая компания
Pony Express

Курьерская компания
ЕМС Почта России

Курьерская служба EMS в России
IML

Логистическая компания
Курьер Сервис Экспресс

Российская курьерская компания
ЖелДорЭкспедиция

Российская транспортная компания
Предоставляемые услуги и их стоимость
Стоимость отправки посылок массой до 5 кг внутри страны зависит только от их массы:
Масса, кг
Доставка, USD
обычная
экспресс
До 0,5
6.1
8.1
0,5–1
8.25
10.6
1–3
10.4
13.1
3–5
12.5
17.3
Доставка внутренних писем обойдется от 0,7 до 4,4 долларов США в зависимости от срочности: обычные письма могут идти до недели, экспресс-письма доставляются на следующий день.
Стоимость международных посылок зависит от расстояния и выбранного способа доставки. То, сколько идет посылка из Австралии в РФ, также зависит от выбранного способа доставки  и от расторопности "Почты России". В среднем посылки с Зеленого континента в Москву доходят за срок от 11 дней до месяца.
Оценить приблизительную стоимость и срок доставки вашей корреспонденции можно с помощью .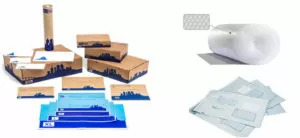 Конечно же, в отделениях можно приобрести различные виды упаковки для своих писем и посылок – от конвертов до прочных вместительных коробок стоимостью от 17 до 70 долларов США.
Также компания предоставляет услуги страхования, банкинга, продажи подарочных карт австралийских магазинов и даже онлайн-магазин различных товаров – смартфонов, игрушек, коллекционных марок и офисной техники.
Еще одна интересная услуга – заказ персонализированной марки: от 23 USD за 20 шт.
Статусы отслеживания посылок Почта Германии с переводом
Статус
Перевод/Описание
The shipment has been loaded onto the delivery vehicle
The shipment is being prepared for delivery in the delivery depot
The shipment has been successfully delivered
The recipient was not present. The recipient has been notified
The shipment could not be delivered
The shipment could not be delivered, and the recipient has been notified
The shipment has left the import parcel center in the destination country
Shipment is prepared for customs clearance in country of destination
The shipment has arrived in the destination country
The shipment has been posted by the sender at the retail outlet
The shipment has been processed in the parcel center of origin
The shipment has been processed in the destination parcel center
The international shipment has been processed in the export parcel center
The shipment will be transported to the destination country and, from there, handed over to the delivery organization
The instruction data for this shipment have been provided by the sender to DHL electronically
The international shipment has been processed in the parcel center of origin
The shipment has cleared customs in the destination country
The shipment has been picked up
The shipment has been processed in the parcel center
The international shipment has arrived at the import parcel center
The shipment has arrived at the parcel center of origin
The shipment has been declared for export customs clearance
The shipment has cleared customs in the country of origin
The shipment will be handed over to the customs office responsible for the recipient. The recipient can collect the shipment from there once he has received notification from customs
The shipment has been postponed and will probably be delivered on the next working day
The shipment was misrouted. The shipment will be redirected and forwarded to the recipient
Shipment has been handed over to DHL Express for import
Отправление убыло из местного распределительного центра
Отправление прибыло в страну назначения – возможно последняя информация об отслеживании отправления, отправление будет скоро доставлено
Выполнена обработка на транзитном терминале
Ожидает отправки из Германии
Принято в отделении связи
Отправление передано в экспортный сортировочный пункт
Отправление убыло с транзитного терминала
Обработка закончена в пункте отправки
Отправление обработано
Прибыло на распределительный центр DHL
Получение отправления партнером-перевозчиком
В пути к распределительному центру DHL
Электронное уведомление получено
Forwarded. de Unidade de Logistica Integrada em CURITIBA / PR para Unidade Operacional em Liberado sem imposto. Entrega em 40 dias / BR
Received by the Brazil Post. Object subject to inspection and delay on delivery
The shipment has arrived in the transit country
Departed from local distribution center
Processed at transit facility
Forwarded. de Pais em ALEMANHA / para Pacs em BRASIL / BR
Arrived at transit facility
Departed from transit facility
Processing completed at origin
Processed
Processed at export facility
Arrival at DHL eCommerce distribution center
En route to DHL eCommerce distribution center
Electronic notification received: your order has been processed and tracking will be updated soon